What value would you give to your survey monuments if they could provide longevity, be easily found and are environmentally friendly, too? One solution that provides all of these benefits is the EcoStake, available exclusively from Berntsen.
Berntsen was kind enough to provide me with a small sample of the EcoStake in the different sizes, markings and colored tops to try out. I was interested in seeing if the EcoStake made a good survey control point, being easy to set yet solid, and be easy to relocate. The fact that the EcoStake is a product made from recycled plastics and is a "green" product appealed to me, also.


EcoStake Facts:
EcoStake is made of recycled plastic.
EcoStake is UV protected.
EcoStake will not rot like wooden stakes.
Termites and other insects won't eat your survey EcoStake.
EcoStake will not splinter or split, reducing injuries.
A strong magnet is installed in the top to help in finding your EcoStake again.
The EcoStake is available in 1" x 16" or 1 5/8" x 18" & 24" sizes.
Both EcoStake sizes are available in pink and orange tops.
The EcoStake comes either imprinted with 'Survey Mark' or with a cross.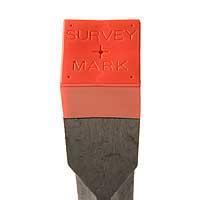 The survey control you set when performing a land survey is an investment in your future, waiting to return your investment of time and energy to increase your future efficiencies and profitability. My field crews and I, over the years, have always tried to set good permanent and recoverable survey control when performing a professional land survey. We try to set drill holes in rocks, boulders or concrete surfaces when possible, which we find tends to survive the test of time. Yes, in urban settings, or where development is taking place, it is all too common to have survey control points destroyed. However, when conducting more rural surveys, we find that good control can last years and decades if good solid control points are first set.
This gives you an advantage when you return to an old survey, often years later, by being able to find good accurate control in place and ready for you to use. Not needing to re-invent the wheel saves you time, increases your profit, makes your new work go faster (which clients like, too) and helps to ensure that both surveys, old and new, are coordinated together harmoniously.
For example, last year I was conducting a professional land survey to extend an existing property survey that I'd completed several years ago. In the area I needed to start surveying from, most of the original surveyed traverse control points were wooden stakes previously set. I don't think that if I came back this year that they'd still be usable. I was lucky, this time.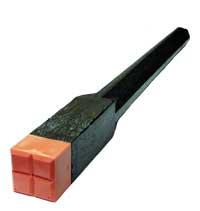 I know that if I'd used the EcoStake the control would have been easy to find, in place and solid. The EcoStake is easy to find because inside each EcoStake is a strong magnet. Your metal detector will "sing" loudly, making your survey control easy to find. In fact, as a test, I was able to locate a previously set EcoStake using a hand held compass.
Before Berntsen sent me the EcoStake samples, I wondered if they would be easy to set and if they would make solid survey control points. I could not have been more surprised and pleased, because I found the EcoStake to be easy to set, resulting in a solid survey control point. Being plastic, the EcoStake provides enough flexibility to deflect in-the-ground obstructions but with the side ribbing grabs the ground and becomes very solid when fully set. I think the EcoStake actually sets more firmly than a wooden stake, rebar, pipe, or other monuments you may currently be using as survey control points.
I also liked that the EcoStake comes in different sizes for different situations. The larger size is great, setting deep and solid into the ground. The smaller size weighs weighs less, which makes it easier to carry and you can carry more, and sets very solidly, also, just not as deep as the larger size. I think that the smaller sized EcoStake will suit most purposes, with the larger sized EcoStake being more suitable for areas where you need to get down some to grab more earth - like swampy or sandy areas.
All survey control is subject to being destroyed due to vandalism, earth clearing and moving activities and due to the ravages of time. We can't control vandalism and survey control destruction due to earth clearing and moving activities, but now there's no excuse for not using the EcoStake and beating the ravages of time. You'll also save time and money relocating them, too.
Professional Land Surveyor Product Review Rating is 4 RODS out of a total possible 4 RODS.