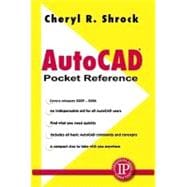 Product Description
This indispensable aid and handy reference provides easy access to all the important fundamental commands, concepts, and How to information for the everyday use of AutoCAD. It is perfect for students, teachers, and all AutoCAD users who are on the go and who need an occasional reminder on how to use a command. This pocket reference is not intended to be a substitute for an introductory textbook. To learn AutoCAD quickly and easily, you ll want to obtain a copy of Beginning AutoCAD Exercise Workbook by the same author.
THIS IS THE RIGHT REFERENCE FOR YOU IF:
- You need help in using the right commands on the job or in the classroom.
- You need a compact reference that you can take with you anywhere.
- You want a reference that lets you locate what you need quickly and easily.
- You need a reference that includes all basic AutoCAD commands and concepts.
- You are using AutoCAD release 2009 or later.
About the Author
Cheryl R. Shrock is a Professor and Chairperson of Computer Aided Design at Orange Coast College in Costa Mesa, California. She is an Autodesk registered author and has written a dozen workbooks on AutoCAD. Cheryl began teaching CAD in 1990. Previous to teaching, she owned and operated a commercial product and machine design business where designs were created and documented using CAD. This workbook